2021
Olga Blomgren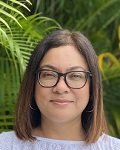 Dissertation Abstract
"Reading Dangerously: Cannibalizing Languages, Creolizing Texts, and Archipelagic Thinking in Writings by Rosario Ferré and Edwidge Danticat"

This dissertation examines literature published in the 1990s through the early 2000s by Haitian American author Edwidge Danticat and Puerto Rican author Rosario Ferré. By tracing the transregional mobilities of these authors, this project contributes to literary and global humanistic studies via the inclusion of archipelagic epistemologies and ways of being and continues to question post-imperial geographies and the concept of a homogenous global English. Ferré and Danticat relate narratives of
movement and returns, or a series of movements wherein settling in any one place is not the objective. In this sense, cannibalism and creolization, concepts defined by dynamism and process, are important generative elements in their writing. These are epistemological tools which help explain their difference and reveal that which distinguishes their writings from the ideologies of particularity and classification. I
uncover the elements of linguistic foreignness and danger inherent to Danticat and Ferré's writing. They write in an English language which was made foreign to them by the histories, policies, and practices of the Caribbean archipelago, it is neither their first language nor their so-called mother tongue. As multilingual authors, their English-language literature establishes their difference and the threat their
linguistic choices pose to conceptions about language. Ferré's literature creates a relational space for a diaspora who may have been separated from their history and culture by geography and language.
Danticat's writing maintains the Caribbean particularity of creolization, moving texts between languages and relational spaces in response to various forms of dehumanization. Instead of a postcolonial author rewriting a metropolitan work, Danticat revises the formulation, bringing the inspiration she gained from canonical Haitian novels to an Anglophone readership. Ferré and Danticat's archipelagic poetics highlight the mixture and foreignness of all language, amplify the narratives of an individual's lived experience, and subvert national myths. Their linguistic choice foregrounds why their writing can be understood as archipelagic; it endorses a re/mapping drawn from the authors' experiences and the stories of decolonial ways of being, knowing, and doing they highlight. Ultimately, this research lays a foundation to engage current theorizations and critical studies of world literature alongside other global archipelagic poetics.