2017, 2023
Nils Martin
Postdoctoral Scholar
École Pratique des Hautes Études, France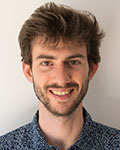 Drigung Kagyu Murals in Ladakh (Thirteenth to Mid-Fifteenth century): Patrons and Painters
The main aim of the dissertation is to determine the dates and the circumstances surrounding the establishment, development, and decline of the Drigung Kagyu School of Tibetan Buddhism in the northwest Indian region of Ladakh during the 13th-15th centuries. The research for the dissertation is based on the multidisciplinary study of murals and inscriptions located in 30 religious monuments in this region, which represents the western-most extent of Tibetan Buddhist civilization. It aims to highlight the specific features of Drigung painting in Ladakh with respect to both iconography and style, and to address key patterns of Buddhist patronage, such as the motivations of the donors and the actual process of wall painting by workshops and master-painters.
Art History and Epigraphy of Early Tibetan Buddhist Rock Carvings in Ladakh and Baltistan, from ca. eighth century to early eleventh century
The regions of Ladakh (India) and Baltistan (Pakistan) count more numerous early Buddhist rock carvings accompanied by Tibetan inscriptions than any other region of the Tibetan cultural sphere. These materials offer a precious look at the artistic and epigraphic culture of Tibet from the imperial period—ca. seventh to mid-ninth century—to that of the Western Tibetan confederation—ca. tenth to thirteenth centuries—including the intermediate period of political fragmentation. This research project aims at their comprehensive, multidisciplinary study in light of all similar anepigraphic specimens. It has the potential to considerably deepen our understanding of the relationship between Buddhist images and text, the cultural transfers along the Silk roads, and the history of Buddhism in Tibet.