2018, 2022
Nataly Shahaf
Doctoral Candidate
Columbia University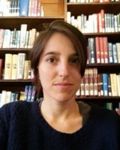 The Making of Art Society in Early Twentieth-Century China
I focus on the development of art culture for the masses during the political transition from the Qing empire to the Republican state. I look at art societies that became seminal cultural institutions in China at the turn of the 20th century. Growing to encompass schools, publishing houses, research institutions, venues for trading art, and political activity, art societies came to be seen as indispensable to cultural and social mobility and the remaking of a new Republican Chinese identity both in China and overseas. Reading privately produced archives, such as biji and reproduction prints of art, I explore how changing ideas about art led artists, collectors, publishers, traders, educators, and officials to preserve, reproduce, display, and teach art in new ways and towards new ends.
Multiple Exposures: Ghosts, Buddhism, and Visual Heritage in Early Twentieth-century China
Through ghost photography, mechanical art reproduction, and news columns, this dissertation examines how new media forms and technologies were deployed in early 20th-century China to preserve and reproduce Chinese Buddhist and artistic heritage. It analyzes the art arena and political press as key sites for the legitimation of Chinese Buddhism and the creation of new images of China's past in light of the partition of China's territory among imperial powers, the plundering of artistic treasures by armies and art collectors, and the rise of anti-religious campaigns. Marking a material turn in a literati culture deeply rooted in textual practices, it argues that visual technologies became the preferred mode of authenticating the past and establishing a common Chinese culture in the early Republic.