2015, 2018
Nadya Bair
Postdoctoral Fellow
Yale University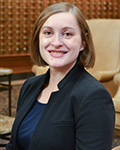 The Decisive Network: Magnum Photos and the Art of Collaboration in Postwar Photojournalism
This dissertation examines the daily operations of Magnum Photos, the global photographic cooperative founded in 1947. It demonstrates how Magnum's editorial style and penchant for human-interest stories expanded the geographic scope of news photography when World War II ended. It then shows how Magnum brought photojournalism—as an aesthetic and as a mode of production—into new markets for photography, shaping how everything from the experience of tourism to the work of relief organizations and corporations came to be represented visually in the 1950s. The dissertation argues that in all of these ventures, Magnum's successes resulted from the "decisive network" of agency staff, magazine editors, dark room developers, book publishers, and museum curators with whom photographers collaborated on a daily basis. Based in extensive archival research, this is the first project to situate Magnum's early history within the postwar system of press photography as well the changing fields of sociology, geography, and public relations.
The Decisive Network: Magnum Photos and the Postwar Image Market
"The Decisive Network" is a history of the international picture agency Magnum Photos, founded in 1947. Based in extensive archival research, the project shows how American editors, publishers, and corporate leaders worked with peripatetic photographers to create an American visual culture that was deeply engaged with everyday life around the world, and which exploited the aesthetic and production mode of news photography. It is a story of the large amounts of images that Magnum produced on a daily basis, and of the massive logistical efforts in global photographic distribution and communication. This book situates Magnum's output within the history of magazines, exhibitions, and the art market as well as the changing professions of journalism, sociology, and public relations. It shows that histories of photography and the press are key to modern and US art, and that the role of transatlantic networks is indispensable to critical studies of art and mass media.