2014, 2016
Mutiat Titilope Oladejo
Lecturer II
University of Ibadan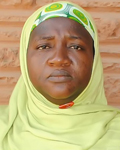 Ibadan Market Women and Politics, 1900 to 1995
Historically, Ibadan market women were active in political mobilisation. They engaged in eclectic political actions during the decolonisation process. Their leaders significantly swayed the electorate both in and beyond the market places. Despite the roles of market women in the political events of Ibadan, only a few studies have made tangential references to these activities. Therefore, this study examined the historical development of the roles of Ibadan market women in politics between 1900 and 1995 with a view to establishing their contributions. The historical approach was adopted which included the use of primary and secondary data. Primary data involved interviews with market women who plied their trade in the old markets of Dugbe, Gbagi and Oja'ba, Ibadan.
Women and Petitions Writing in Colonial Yorubaland, 1900 to 1960
In the many accounts of nationalist agitations in colonial Nigeria, the act of petitions writing by women did not receive the much deserved attention. Petitions written by women in colonial Yorubaland challenged the hegemony of colonial administrators, European merchants, the Lebanese, indigenous merchants and the traditional political system and it ultimately contributed to Nigeria's nation building. This research therefore examines the history of Yoruba women's participation in the nationalists and decolonisation processes. It analyses how Yoruba women deployed the use of petitions for political emancipation. It seeks to use an integrative historical approach to deepen knowledge of the African society through the combination of primary and secondary sources. It explores how changes induced by colonialism created the social, cultural and political milieus that made women resolve to writing petitions to advance developmental issues affecting the society. This study establishes the role of Yoruba women in Nigerian nation building.