2007, 2012
Moses Ebe Ochonu
Associate Professor
Vanderbilt University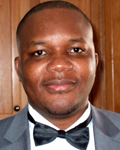 Colonial Meltdown: Northern Nigeria in the Great Depression
This project focuses on the on-the-ground realities of a part of Nigeria during the Great Depression. It examines the specific ways in which a British colonial system, stung by the economic crisis, tried to maintain fiscal resources in a time of collapsing markets; the intended and unintended consequences of their actions on political as well as economic relations in the region; and the ways in which Nigerians tried both to cope and to protest. Using archival documents such as colonial reports, memos, and correspondences, Hausa language and local English language newspapers, petitions, colonial statistics, and oral testimony, the project examines the economic, political, and social implications of the Great Depression of the 1930s for Northern Nigeria's colonial grassroots.
The Caliphate's Burden: Hausa-Fulani Subcolonialism and Middle Belt Consciousness in Nigeria
This study analyzes the political and symbolic initiatives of the defunct Sokoto Caliphate's Hausa-Fulani Muslim imperial agents in the Nigerian Middle Belt from the mid-nineteenth century to independence. It reconstructs Caliphate-Middle Belt relations as they morphed from tribute-taking vassalage to sub-colonial preparatory rule under British colonization (1900-1960). In the Middle Belt, caliphate personnel and ideas meshed with British notions of civilizational hierarchy among Africans to produce a proxy colonial administration, or sub-colonialism, that violated the fundamental tenet of British Indirect Rule: indigenous mediation. The project also explores the reactive innovations that Middle Belt peoples, non-Muslim and non-Hausa, exhibited in the face of sub-colonial Hausa-Fulani rule. It argues that the Hausa-Fulani sub-colonials were not mere intermediaries-the staple analytical category of studies on Indirect Rule in Africa. Rather, they were colonizers in their own circumscribed rights, and their polyvalent legacies pervade the Middle Belt to date.