2014, 2016
Michelle T. King
Associate Professor
University of North Carolina at Chapel Hill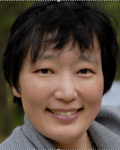 The Pei Mei Project: History, Gender and Memory Through the Pages of a Chinese Cookbook
This research project centers on the figure of Fu Pei-mei (1931-2004), cookbook author and television personality in postwar Taiwan. Fu authored more than thirty cookbooks, many of which were bilingual Chinese-English, and was the host of Taiwan television's first instructional program on Chinese cooking, which ran for almost four decades, beginning in 1962. Fu Pei-mei's life and career as the doyenne of Chinese cooking shed light on a number of key issues in postwar society in Taiwan, including the development of foodways as a critical national political project, shifting gender roles, and transnational constructions of Chinese/Taiwanese identity through successive generations. This project examines each of these arenas through a combination of archival, oral and digital historical methods.
Culinary Nationalism in Asia
Food and cuisine have had an exceedingly significant place in Chinese culture for centuries, yet little critical attention has been paid to foodways in the formation of its modern national identities. This conference proposes to grapple with the question of modern Chinese "culinary nationalism" by placing it in a comparative Asian context, bringing together an international and interdisciplinary group of scholars in the fields of history, anthropology, sociology, literature, media and cultural studies, with research interests in China, Taiwan, Hong Kong, Singapore, Malaysia, Japan, Korea and India. Collectively, the papers will address these questions: What is gained or lost by discussing Chinese cuisine as a cultural vs. a national phenomenon? How have foodways contributed to the formation of cultural, regional and national identities in different Asian locations? How do foodways transgress national boundaries? How has culinary nationalism served as a form of nostalgic recovery and creative reinvention among overseas diasporas?