2018, 2021
Maryam Yusuf Magaji
Lecturer I
Federal University Wukari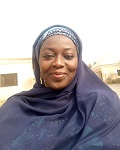 Gender and Oral Performance Aesthetics in Selected Amada Songs in Katsina State of Nigeria
This study examines Gender and Performance Aesthetics in Amada songs from Katsina State, Nigeria. Amada, a form of Hausa art, is performed for women, by women and is motivated by the impulse to change certain cultural and religious restrictions placed on the female gender. The study will study the women's struggle for self and gender emancipation within a cultural framework which brought about conflicts that created paradoxes in their songs. The performers rejected invisibility and inaudibility and made efforts to reconfigure and extend their spaces beyond limiting cultural ones. Using metonymic constructions of musical instruments, synecdoche, transgressive idioms and body poetics, they opened up discursive spaces where feminine difference was articulated. Womanism, Structuralism and Performance theories will be employed to highlight the functions and aesthetic features of Amada, to examine women's self expression and the paradox of freedom in seclusion and to discuss the paralinguistic constructs in the performance.
Freedom in Seclusion; Performing Gender Identities in Hausa Women's Amada and Shantu Performances.
This study investigates the freedom Hausa women find during their Amada and Shantu performances. It also examines the symbolic use of instruments in the two performances which are among the few subgenres reserved for women in the Hausa society. All the performances take place in seclusion but the women enjoy a degree of artistic freedom which marks their female centered renditions out as mediums of gender expressions within the secluded space. Using performance idioms and exhibitions, the women construct narratives of power, comment on current events and encourage other women to commence income generating activities.. Participating in these performances thus enhances freedom for Hausa women even within the confines of marital seclusion. The performances to be used for this study will be collected through participant observation and interview methods with female performers in Katsina, Nigeria and the data collected will be subjected to data analysis using Womanism and Semiotics.