2008, 2013
Mary Katherine Campbell
Assistant Professor
University of Tennessee, Knoxville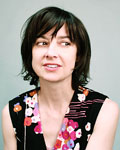 Holy Lands and Profane Women: Charles Ellis Johnson and the Practice of Mormon Photography
This dissertation focuses on the work of Charles Ellis Johnson (1857-1926)in order to complicate our understanding of what it means to be a "Mormon photographer." Official Utah photographer for the Mormon Church during the 1890s, Johnson traveled to Jerusalem and Palestine in 1903 to document the Holy Land. In contrast to these religiously themed pictures, however, Johnson also shot stereoscopic erotica. This dissertation engages the full scope of Johnson's imagery to ultimately explore the cultural work that photographic media performed in both Johnson's Mormon community and larger Gilded Age America.
Mormon Porn: Charles Ellis Johnson's Stereographic Sinners and Latter-day Saints
In 1890, the Mormon church relinquished polygamy and began the process of becoming a mainstream American faith. This book examines this religious transformation through the work of the Mormon artist Charles Ellis Johnson, 1857–1926. One of the LDS church's favorite photographers, Johnson also specialized in erotic stereoviews of women. This project reveals the complicated ways in which Johnson's Utah souvenir albums presented the newly monogamous Mormons as a refined, wholesome people while his risqué views soothed the country's remaining anxieties by transforming the Saints from an actual political threat into a seductive dream of masculine freedom. As such, the project explores the potent fantasies of sex, manhood, and power that polygamy activated for Mormons and non-Mormons alike.