2015, 2021
Maria Vinogradova
Visiting Assistant Professor
Pratt Institute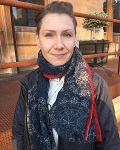 Amateur Cinema in the Soviet Union, 1957-1991: History, Ideology, and Culture
This dissertation writes a history of the amateur film movement in the Soviet Union, focusing on its most productive period from the late 1950s to the early 1990s. At this time, trade unions, factories, and worker clubs sponsored amateur film collectives, enabling them to create a broad scope of films that ranged from newsreels, industrial, and educational films, to fiction, animation, and experimental works. The Soviet state-sponsored system of amateur film workshops created a film culture that was alternative, diverse, and polyvocal. Its output presents a unique record of the Soviet everyday from the perspective of ordinary citizens. Analyzing rare films, archival documents, and interviews, the dissertation argues that this record is authentic; film amateurs were not "hired" by the state propaganda machine to create a favorable image of reality. The dissertation regards this organized approach to amateur filmmaking as consistent with the turn that socialism took in the Soviet Union in the post-Stalin period.
On the Public Rails: A History of Soviet Amateur Filmmaking (1957-1991)
"On the Public Rails" offers the first scholarly study of organized Soviet amateur cinema. During its most productive period, between the late 1950s and the early 1990s, numerous amateur collectives at factories, universities, vocational schools and other organizations created a vast body of films that ranged from "useful," such as newsreels, industrial, educational and corporate films, to "useless," such as fiction, animation and occasional experimental works. These films, together with the contexts for their creation, constitute a forgotten chapter in the history of the use of the film medium in the Soviet Union. Analyzing extant amateur films and drawing on archival documents, manuals for cine enthusiasts and interviews, this book highlights the three actors that shaped Soviet amateur film culture after 1957: cine amateurs themselves, state institutions that provided material support, and professional filmmakers whose advocacy was instrumental in the mass development of amateur production.