2020
Maria-Gratias Sinon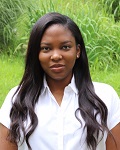 Dissertation Abstract
"In/visibility Crises: Transnational Correctives and The Happiness of Black Women in Francophone Prose Fiction and Dramatic Film"

This project turns needed attention to black women's quests for happiness lived, fictionalized, and theorized in global contexts, and how engaging with such experiences helps us to see, hear, and thus empathize anew with voices and bodies deep in states of crises even today. Through a humanities-focused blending of fields such as black feminist theory, Francophone studies, and transnational studies, each section weaves together fiction, nonfiction, and theory in order to shed more light on the intersectional complexity of what scholars before me have considered black women's crises of in/visibility – that is, the persistent yet variably dehumanizing overlap of externally-determined hypervisible materiality and too-often invisible subjectivity. The project's humanizing emphasis on black female protagonists spotlights how black women are regularly forced into in/visibility, as they seek recourse and even refuge from their crises through transnational correctives, or practices of survival that aim to bypass the national and global hegemonies that their crises expose.
Reading fiction as vital amplification of the voices and bodies that testify to such experiences, this project's series of case studies looks closely at crises that materialize when black women set out to find "happiness," in Francophone spaces in both the global North and South and when they learn that said happiness never materializes. Through comparative studies across genres and periods, the chapters also discuss the transnational correctives black women devise and deploy when they find themselves faced with such crises. Such correctives reveal successful or stifled expressions of black women's will, as they also speak to formal and thematic parallels that surface in poetry and nonfiction documentaries the project engages. Prose fiction and dramatic film from the mid-twentieth to the twenty-first century, authored by both men and women, play a central role in the project, in part for the ways the question of author gender does (and does not) inform the critical voices and corrective practices of black women. These genres become critical because of the intimate narration and visceral imagery they offer, particularly starting from the mid-twentieth century when efforts to validate black subjectivity became newly regalvanized in Francophone spaces. Specifically the works create multi-sensory resonance chambers for attempting to convey the in/visibility crises real black women have lived and continue to live, beyond any isolated moments of being seen solely fleshy bodies, and well into collective experiences of (not) being heard and of (re)defining happiness. As such, fiction and film help audiences begin to empathize with transnational correctives fictional and real black women seek to assemble in their pursuits of happiness.
A rich and extensive corpus of scholarship exists on such questions, particularly in recent works of Anglophone contexts, which this project engages. But there remain underexplored questions, including in Francophone spaces that this project turns its attention to. They include, among others: crises and correctives that manifest at varied intersections of faith, gender, race, and age; and inter-lingual and transnational dynamics of such experiences and practices that move beyond monolingual or nationalistic histories often assumed with uses of "Francophone," as with varied uses of French, Ewe, Wolof, and Creole languages. In sum, the project argues for the continued reading of fiction in tandem with black feminist practices of exposing the eclipsed presence of black women in the canons of fiction and thought, as it also reveals an absolute dehumanization that post-humanist scholars have recently turned to with great anxiety. Emphasizing how black women's experiences have always attended to such questions, the project offers the next steps in the long work of decolonizing the centuries-old limits imposed on all humans as exemplified by the lives of black women, as it also necessarily expands on recent projects that trouble popular conceptualizations of happiness.