2008, 2019
Maria del Mar Rosa-Rodriguez
Associate Professor
University of Puerto Rico at Cayey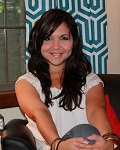 Simulacra and Religiosity: Muslim, Jewish, and Christian Hybridity in Sixteenth-Century Spain
This dissertation examines Islam, Judaism, and Christianity as portrayed in Aljamiado Literature, Judeo-Spanish Literature, and a 1504 fatwa. These uncanny and hybrid texts exist on the borderline between the alphabet of one language and the sound of another (e.g. Spanish written with Arabic letters). They reveal covert and subversive gestures of religious and linguistic hybridity contrary to the hegemonic definition of Imperial Spain. Based on four years of extensive archival research in Madrid, this dissertation incorporates these marginalized texts into the Spanish literary history and explains the religious passing that takes place when a subject lives between the simulation of Catholicism, and the dissimulation of Islam and Judaism.
Truncated Modernities: Religious Hybridity of Muslims, Jews, and Christians in Early Modern Spain
This book project focuses on Muslim and Jewish minorities in early modern Spain, arguing that religious hybridity is a revolutionary alternative to oppression and assimilation. It recovers a forgotten archive of Aljamiado manuscripts, which provide a unique case study and suggest a truncated (or interrupted) modernity that is relevant today. Decoding these texts helps envision other possible worlds by putting formerly marginalized peoples and cultures at the center of the discussion. The grant will support summer funding and research materials.