2010, 2012
Maile S. Hutterer
New Faculty Fellow
Rutgers University-New Brunswick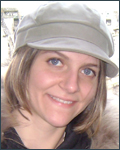 Broken Outlines and Structural Exhibitionism: The Flying Buttress as Aesthetic Choice in Medieval France
This dissertation examines the aesthetic, symbolic, and cultural relevance of the medieval flying buttress, utilized continuously from the mid-twelfth to seventeenth century. An element that has been studied primarily in terms of its structural implications, this project recognizes it as a building component that was fully integrated into church design and exploited for its unique and highly visible typology. As the first detailed analysis of flying buttresses, the dissertation begins by investigating typology and dissemination. It then reconnects the flyer to the physical church and its iconographic interpretation, first through an investigation of the medieval planning principles underlying design, and then by situating it within the context of church reform and sacred place.
PhD, History of Art, New York University appointed in Art History at Rutgers University, New Brunswick
Dissertation: "Broken Outlines and Structural Exhibitionism: The Flying Buttress as Aesthetic Choice in Medieval France"