2009, 2010
Lucas Bessire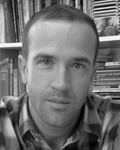 Channeling Hope: Two-way Radio, Sentiment, and Indigenous Sovereignty in the Gran Chaco
In March 2004, 17 of the world's last "voluntarily isolated" hunter/gatherers walked out of Paraguay's arid Gran Chaco forest, fleeing ranchers' bulldozers. Less than five months after this startling "first contact," these people joined their relatives in using an intercommunity Ayoreo-language shortwave radio network to establish a collective ethnic identity in dialogue with competing colonial notions of "modernity" across the Bolivia-Paraguay border. This dissertation focuses on their remarkable journey to investigate how two-way radio technology transforms indigenous self-understanding in politically significant ways, as they navigate the maze of often-conflicting value systems brought by missionaires, humanitarian NGO's, and transient anthropologists. Specifically, this project critically analyzes the sentimental mechanics by which colonial histories and media technologies shape native cultural and political futures in the Gran Chaco.
Behold the Black Caiman: Mediating Modernity, Sentiment, and Indigeneity among the Ayoreo Indians of the Gran Chaco
This research project draws from 37 months of fieldwork with a recently contacted indigenous group in South America's Gran Chaco to examine the political and sentimental implications of "becoming indigenous" in the twenty-first century. It uses an intimate portrait of an Ayoreo band that made "first contact" in 2004 to track how three distinct scales of mediation—including indigenous appropriation of radio technology, transnational discourses of indigenous rights, and local understandings of evangelical Christian doctrine—change Ayoreo imaginations of themselves as people out of place in a "new world" they consider to be fundamentally out of their control. What kinds of futures are Ayoreo piecing together out of such understandings of indigeneity and modernity?