2008, 2009, 2011
Lihong Shi
New Faculty Fellow
Washington University in St. Louis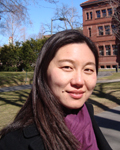 "Little Quilted Vests to Warm Parents' Hearts": Transforming Reproductive Choice in Rural Northeast China
Based on ethnographic fieldwork, this project explores an emerging transition of reproductive choice in rural Northeast China where a substantial number of peasant couples have willingly embraced a singleton-daughter (one child, a daughter), rather than take advantage of the modified birth-control policy that allows them a second child if their first child is a girl. Such a transformation of reproductive choice is closely related to the shift of gendered practice of old-age support, weakened dedication to the patrilineage, women's empowerment, and the rise of the nuclear family in rural China. This project calls attention to the transformation of reproductive choice in the interplay of state intervention, cultural change, the impact of the market economy, and the empowerment of women.
PhD, Anthropology, Tulane University appointed in Anthropology at Washington University
Dissertation: "Embracing a Singleton-Daughter: An Emerging Transition of Reproductive Choice in Rural Northeast China"