2008, 2011
Laurel Seely Voloder
Religious Freedom Promotion Specialist
US Department of State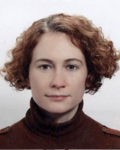 Discourses of Bosnian Identity and the Transition to Post-Socialism
This dissertation research centers upon contemporary literary, academic, artistic avant-garde, and popular culture in Bosnia and Herzegovina, viewed within the larger political and cultural contexts of late- and post-socialist Yugoslavia. The aim of the project is to explore the multiple and disparate intersections and transformations of identity, nation, and culture in Bosnia during a period of rapid political and social change within a variety of media and milieux. To that end, it provides analysis of key "nodal events" dating from the period of the disintegration of Yugoslavia into separate states and distinct national identities.
Appointed as Religious Freedom Promotion Specialist, US Department of State Bureau of Democracy, Human Rights, and Labor
The International Religious Freedom Office of the US Department of State's Bureau of Democracy, Human Rights and Labor is responsible for developing strategies to promote religious freedom and reduce religious persecution and discrimination as a core objective of US foreign policy. The Office reviews, recommends, and implements policy on international religious freedom; conducts advocacy and negotiations; manages assistance programs; and produces the Department's Annual Report on International Religious Freedom. The Religious Freedom Promotion Specialist provides expert analytical and advisory support for the planning, development, and execution of religious freedom in US foreign policy as it relates to a geographic portfolio.