2020
Keyanah Nurse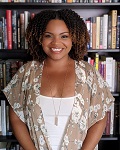 Dissertation Abstract
"Black Liberalism: The Formation of Race and Nation in the Río de la Plata, 1870-1900"

Throughout the final decades of the nineteenth century, political and intellectual elites in the capital cities of Buenos Aires and Montevideo successfully enacted their visions of liberal modernity. New infrastructure, centralized government, and investment of foreign capital defined liberal reform in this region known as the "Río de la Plata," but elite articulations of liberalism also denied African or indigenous communities any place within the modern Argentine and Uruguayan nation-states. However, writers of African descent in both cities concurrently articulated a new future for their communities through the very framework that excluded them: liberalism.
This dissertation analyzes how writers of both cities' "black presses" articulated their own visions of liberal modernity, as well as the sociopolitical possibilities and limitations generated therein. For these writers, some arenas of liberal reform were potentially transformative for their communities. Through formal education or vocational training, their communities could erase the stigma of racialized enslavement, re-emerging as fully de-racialized citizens. Thus, the liberal project of what they called "social regeneration" carried with it the potential to render race insignificant.
Such a project also functioned as a framework within which these writers incorrectly assessed the social and political dynamics of various nodes of the global African Diaspora—all in order to forward agendas of effecting change locally. Looking through the prism of liberal modernity, writers of African descent in Montevideo were in awe of the social organization and discipline enacted by their Argentine peers, just as Argentine writers berated their own communities for lack of "civilized" behavior. Similarly, upon the end of the U.S. Civil War, the writers of Buenos Aires's black press looked to the political gains of African Americans as a shining example of the insignificance of race, just as the period of U.S. Reconstruction only further entrenched the importance of race.
Particularly for Montevideo's community of African descent, liberalism presented exceptional limitations. Modernizing, professionalizing, and centralizing Uruguay's military relied on impressing men into military service. Through their analysis of the state's practice of "hunting" men of African descent, writers articulated a new conception of "blackness," one politicized through an abusive relationship with the nation-state. Even Uruguayan men who fled to Buenos Aires organized politically to pressure their government to end such abuses.
By comparing and contrasting the possibilities and limitations of liberalism for communities of African descent in Buenos Aires and Montevideo, this dissertation abandons the assumption of the "disappearance" of black identities throughout the region, historicizing their transformations instead. Indeed, it locates this transformation within the broader process of late nineteenth century Latin American state formation, while also offering liberalism as yet another thread of coherency and disunity within the global African Diaspora.