2009, 2010, 2018
Katie Hornstein
Assistant Professor
Dartmouth College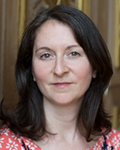 Episodes in Political Illusion: The Proliferation of War Imagery in France, 1804-1856
This dissertation explores the broad public appeal of war imagery during the first half of the nineteenth century in France within the context of nascent modes of image-making such as lithography, battle panoramas, illustrated newspapers, and photography. The visual representation of war quickly adapted itself to these novel forms of visual production and changed the ways that more traditional forms of war imagery, such as battle painting, were understood and evaluated. Focusing on the dissemination of war imagery and the reception of this body of imagery by a diverse public of consumers, this project investigates how the representation of war constituted one the central ideological tools through which modern warfare and governmental power could be justified, advanced, and naturalized.
Episodes in Political Illusion: The Proliferation of War Imagery in Nineteenth-Century France, 1804-1856
This project investigates a neglected, yet central component of nineteenth-century visual culture in France, namely the proliferation of war imagery across a range of established and emergent visual forms including painting, printmaking, battle panoramas, illustrated newspapers and photography. Far from mere reflections of the propagandistic aims of state power, representations of war produced between the First Napoleonic Empire and the Crimean War (1804-1856), the first major armed conflict to break out on European soil since the wars of the First Napoleonic Empire, depended on a wide range of belief systems beyond officially-sponsored political agendas. In addition to focusing on the interrelations which existed between different media used to picture war, the study identifies and interrogates the structures that sustained the interest of both artists and viewers in war as a mode of artistic practice and as a dominant cultural narrative over the course of the nineteenth century.
Leonine Encounters in Nineteenth-Century France
This study examines a rich corpus of leonine imagery that was produced in France after the founding of the first-of-its-kind, state-run menagerie in 1793, up through the 1893 extinction of the Barbary lion due to habitat loss and hunting, mostly at the hands of French colonizers. The project argues that in addition to the sets of accumulated meanings that lions had acquired because of their mythic, storied reputation, nineteenth-century French audiences understood lions in a particular way that stemmed from contemporary political concerns. Rather than reproducing an image of untroubled French authority, the importation, display, and visual representation of lions brought questions about France's capacity to rule and subdue directly to the fore.