2019
Jonathan Shapiro Anjaria
Associate Professor
Brandeis University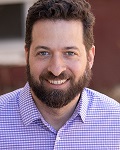 Unruly Streets: Public Space, Urban Governance, and the Crisis of Postcoloniality in Mumbai, India
This dissertation explores the everyday politics of street vending, elite campaigns to safeguard public space, and the practices of the state in Mumbai, India. Long-term field research with street vendors, architects, bureaucrats, and civic activist groups in Mumbai demonstrates that public space is a crucial arena around which conflicts regarding the future of the city are manifested. The everyday life of the city as found on the street is central to understanding larger questions relating to the implications of India's unique urban form for the country's postcolonial future.
Mumbai Modern: Street Vendors, Public Space, and the Making of a Global City
The completed dissertation investigates the role of informal street vending in urban development, and the evolving relationship between the state and "civil society" in the context of larger changes in India's political economy. It argues that at stake in projects to remap Mumbai according to the image of an ideal, 'global' city is not only the reconfiguration of public space, but also the redefinition of citizenship. This new project takes this research in two new directions. First, it studies the relationship of religious identity to the reconfiguration of public space in Mumbai. Second, it conducts a historical study of street vendors' and other marginal populations' claims to city space and on the state during the colonial era (specifically, the period from 1870-1920).
Designing Sustainable and Equitable Streets: A Scholarly and Governmental Collaboration
This project, a collaboration with the City Council of the City of Cambridge, Massachusetts, seeks to understand how ethnography can enable more equitable and effective sustainable street upgrading and redesign. It focuses on community feedback during major street redesigns, including the city's use of flexible infrastructure such as plastic bollards in its efforts to promote non-motorized transportation. This project asks: how do the materials used in street upgrading projects relate to the way residents participate in the design process, and how can an ethnography of mobility and transportation infrastructure encourage a more inclusive process of street redesign and upgrading? This collaboration demonstrates how anthropological research can contribute to solving problems related to urban equity and fossil fuel consumption.