2014, 2016
Jeremiah Nwankwegu
Graduate Assistant
Ebonyi State University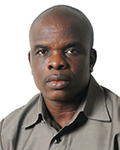 Microparametric Syntax of Interrogatives in Igbo Dialects
This study proposes to comparatively investigate the interrogative grammars of some selected dialects of the North Eastern Group of Dialects of Igbo (Izhii, Ezaa, Ehugbo, Uburu, Nkaleha) and the Standard Igbo with the view that there is more variability in interrogative grammars between the Standard Igbo and its dialects, and even across the non-standard dialects, than one might expect. The study will seek to show that Igbo dialects differ from the standard in a number of ways, but these are not all derivable from a single difference in parameter setting and that within Igbo language, indeed, within a single construction such as the interrogative, there are a number of different grammars possible. The work will be theoretically couched within the Minimalist Program and empirically guided by the microparametric approach to comparative syntax.
Urban Youth Vernacular in South-Eastern Nigeria: A Pragmatic and Morphosyntactic Approach
It is an established fact that the youth, especially in the cities, through linguistic manipulation, create distinctive speech varieties, meant to establish a separate identity. This work proposes to explore the morphosyntactic and pragmatic features of the Igbo Urban Youth Vernacular (IUYV) spoken in the metropolitan cities of the South-Eastern Nigeria. The work will seek to show that, though, IUYV is built on the matrix/dominant language of the area (Igbo), it exhibits some distinctive pragmatic and morphosyntactic patterns, characterised by morphological hybridity, vernacularised/grammaticalized syntactic distortions/deviations and heavy pragmatic abstractions. These are besides the features of complex multi-code-switching/mixing and use of slang and dialect materials. It will also show that, lexically and morphosyntactically, IUYV display regional variations across the metropolitan cities of South-East Nigeria. The ideas proposed in this work are significant because they have the potentials to reshape the theoretical and empirical thinking on youth language.