2014, 2020
Heather Ferguson
Associate Professor
Claremont McKenna College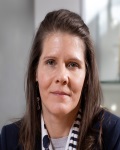 The Proper Order of Things: Language, Power, and Law in Ottoman Administrative Discourses
This project bridges the gap between the history of ideas and the history of practice in approaches to the early modern Ottoman Empire and juxtaposes documentary genres traditionally read in isolation or without regard for narrative style. It argues that repetitive cycles of Ottoman imperial correspondence contain more than the minimal details of provincial history; rather, they rely on rhetorical strategies and formula that normalize interactions between state and non-state actors even when addressed to rebels and bandits. The residues of these interactions reveal a unique rubric of rule shaped through law books, imperial correspondence, petitions, and diagnostic treatises that define the character of Ottoman authority and suggest a new arc for imperial history.
Sovereign Valedictions: "Last Acts" and Archival Ventures in Early Modern Ottoman and Habsburg Courts
This project uses edicts, wills, commissioned manuscripts, dynastic histories, monuments and ceremonies to create an alternative historical index of imperial politics from a rare vantage point: the final undertakings of Ottoman and Habsburg rulers. The techniques adopted to shape the image of sovereignty, preserve the legacy of the sovereign's body and sustain the imperial polity shift our understanding of "archive" from fixed site to mobile practice by revealing a trans-imperial circulation of commemorative methods. "Sovereign Valedictions" presents these techniques as an entangled vocabulary of governance that crosses ethnolinguistic, territorial and juridical boundaries. It pivots away from comparative methods that use the "Islamic" as a "European" counterpoint toward a thematic analysis of efforts to combat time and ensure continuity.