2010, 2013
Harrie Uvietobor Bazunu
Lecturer I
Delta State University, Abraka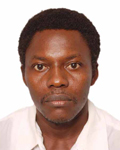 Semiotic Elements in Selected Artworks on the Niger Delta
Artworks using Niger Delta theme(s) are visually and symbolically expressive of the prevailing conditions in this region of Nigeria, south of the Sahara. Berns holds that Delta arts are astonishing in their aesthetic and symbolic assertiveness. This symbolic assertiveness points semiotically towards a direction (or many directions). In light of the contemporainety of artworks on the Niger Delta, in what directions do these pieces, as signs and symbols, point? What do they mean? Within the context of their creation, how do these signifiers relate to their signifieds? Adopting an object-centered method of art historical study, this work classifies and analyzes selected works of visual art based on their text-context relationship, drawing attention to their semiotic elements to foreground the directions to which the visuals point and the meanings thereof.
Igun N' Ugboha (Ugboha Blacksmiths): The Unsung Benin Empire Builders
Benin is famous for bronzes, ivories, wood, leather and pre-colonial military conquests, through the Igun n' Ugboha (Ugboha blacksmiths) which provided the materials for artisans, agriculture, military and domestic living. These blacksmiths and their works, scarcely mentioned in the literature on Benin art, appear to have 'faded away' like their corrosive iron products. They forged, cutlasses, hoes; Umozo and Agbada (sword and dagger), spear-heads and arrows; domestic items, religious/ritual paraphernalia among others. Apart from oral tradition and few surviving artifacts, it appears not much scholarly attention has been accorded these silent pathfinders and nation builders' art/security roles in history. How was the blacksmithing tradition maintained? What source were their raw-materials? What tools/equipments were involved? What were their products? What is the state of blacksmithing in the Kingdom today? Using available literature, in-depth interviews, against current blacksmithing practices, this project investigates Ugboha blacksmiths' role in the building of Benin Empire.