2010, 2017
Hannah Chadeayne Appel
Assistant Professor
University of California, Los Angeles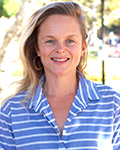 Crude Fictions: Oil and the Making of Modularity in Equatorial Guinea
Oil extraction sites—from Kazakhstan to Trinidad and Tobago, Equatorial Guinea to Indonesia—vary radically, but the technology, people, contractual regimes, and infrastructure the oil industry brings to them do not. This modular nature of the industry—repeating, standardized, flexible—allows partial simplifications of what would otherwise be unmanageable complexity and proliferating ethical muddles. This research follows the work of simplification and replication in the Equatoguinean oil industry, work intended to disentangle the production of profit from the specificities of the supply site. Following the work of simplification shows the techniques through which the petroleum industry separates itself from the ethical situations it creates.
Oil and the Licit Life of Capitalism in Equatorial Guinea
Drawing on fourteen months of fieldwork in Equatorial Guinea's oil and gas industry, this project offers an ethnographic account of the daily life of capitalism. It is both an account of a specific capitalist project—US oil companies working off the shores of central Africa—and an exploration of more general forms and processes—the offshore, contracts, infrastructures, something called "the economy"—that facilitate diverse capitalist projects around the world. Equatorial Guinea is widely considered to be among the world's most corrupt dictatorships. The US oil and gas industry is similarly disreputable. Yet, rather than drawing attention to the scandals that saturate capitalism's daily life, this project uses US oil firms in Equatorial Guinea as a site to follow the licit life of capitalism: practices that are legally sanctioned, widely replicated, and even ordinary, and at the same time messy, contested, and, to many, indefensible.