2013, 2018
Glenda Goodman
Assistant Professor
University of Pennsylvania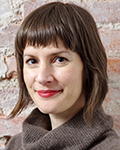 PhD, Music, Harvard University appointed in History at the University of Southern California
Dissertation: "American Identities in an Atlantic Musical World: Transhistorical Case Studies"
Strategic Sounds: Native American Music in the Era of Colonial Conquest
"Strategic Sounds" is a Native American-centered book project about music in colonial New England. Investigating several ways Native Americans encountered Europeans culturally (e.g., trade and literacy) and sonically (e.g., hymns and war songs), this project argues that Native Americans used music strategically to deal with the geopolitical upheaval of the seventeenth and eighteenth centuries. It focuses on Algonquian peoples and groups in the Haudenosaunee (Iroquois) Confederacy, exploring how they navigated the sociocultural conventions of European music—particularly from English, French, and Dutch colonists—and how they actively adapted music to advance their own agendas when engaging with Europeans. By showing that Native peoples were historical actors, the project illuminates intercultural dynamics that hitherto have been overlooked in the study of early American music and departs from previous musicological work on exoticist representations of Native peoples. More broadly, this project contributes to a multidisciplinary agenda of mapping the cultural reverberations of colonialism.