2009, 2013
Folasade Oyinlola Hunsu
Lecturer I
Obafemi Awolowo University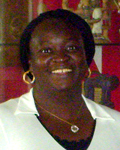 Engendering an Alternative Approach to Reading African Women's Construction of "Self" and "Other" in Autobiography
Cultures and histories are some of the elements that usually determine the discourse of autobiography criticism. Black and feminist studies have consistently interrogated longstanding conventions of autobiography and also developed theoretical paradigms applicable to black and women's autobiography, whereas African women's autobiography has mostly been studied merely as an offshoot of western autobiography and interpreted with tools that were developed from western experience and culture. This study develops a theory that points to contemporary African women's concept of "self," highlighting influences that shape this construction. It categorizes selected texts according to the choice of content and strategies of representation. It shows that the authors create an identifiable classificatory scheme through a series of complex differentiations of "self" from "other," and sometimes the merging of both. It concludes that contemporary African women's autobiography not only transgresses rigid definitions of "otherness" but also demonstrates the relationship between specifics of experience and theory.
Engendering an Alternative Approach to Reading Otherness in African Women's Autobiography
This research proposes an alternative approach to the reading of otherness in African women's autobiography. It is inspired by the Oloto proverb, rooted in Yoruba culture which projects otherness as difference, the uniqueness and power of the individual to speak for "self" as an "other". It attempts to classify selected African women's autobiographical writing by exploring the deployment of narrative strategies and how historical and socio-cultural factors have shaped their celebration of otherness and enabled this tradition. It shows that selected non-fictional and fictional autobiographical texts converege under three main types - as texts that show speakability/vocality and resistance, individuality and selective collectivity, and motherhood and female-bonding as markers of otherness.