2018, 2022
Ettore Santi
Doctoral Candidate
University of California, Berkeley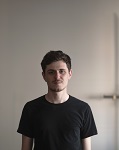 Countryside Urbanism. Negotiating Space and Identity in Guangdong and Hunan Territorial Urbanization
China's rural-to-urban land conversion is the largest property transition in the human history. How do people experience this liminal space? This dissertation project considers the agrarian landscapes of the Guangdong and Hunan regions of China as political entities produced through ecological conservation, environmental dissent, and ethnic segregation. It looks at the cultural production of the built environment in two ways: as a result of the National practices of rural restructuring; and as the product of everyday spatial appropriations.
Designing a Land Revolution: the Corporate Reinvention of China's Rural Environment
Officially, China's Communist Revolution has not yet ended. After the First Land Revolution (Mao Zedong's rural collectivization) and the Second Land Revolution (Deng Xiaoping's rural decollectivization), in 2014 the Chinese central government initiated a Third Land Revolution. This national development campaign enabled village governments to transfer rural land from local farmers to agribusinesses for profit. In order to do this, China's government agencies have mobilized architects, planners, and scientists to redesign thousands of rural villages as spaces for intensive food production and ecotourism. This project examines this massive design enterprise in China's Hunan province, where Chinese Communism was born, and its Revolution started.