2010, 2019
Erik Rattazzi Scott
Associate Professor
University of Kansas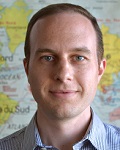 Familiar Strangers: The Georgian Diaspora in the Soviet Union
Georgians were perhaps the most visible ethnic minority in the Soviet Union, and as a diaspora found niches of vital significance at each stage of Soviet history. A small but highly mobile community, Georgians headed the state that built socialism, provided the food and entertainment when Soviet citizens desired new forms of consumption and leisure, dominated the burgeoning second economy, and were among the first to seek exit from the Soviet Union amidst the rising nationalism that accompanied its demise. By focusing on the aspects of Soviet life where Georgian prominence was greatest, the dissertation explores the broad sweep of Soviet history by bringing to light the unique roles played by this dynamic group.
Soviet Defectors and the Borders of the Cold War World
This project examines defection as a global phenomenon produced by the criminalization of emigration by socialist states and the strategic encouragement of departure by capitalist states during the Cold War. Drawing on archival documents from Russia, Ukraine, Georgia, the Baltic states, the United Kingdom, and the United States, the book project traces the global journeys of defectors through the contested borderlands of the period, including refugee camps, restricted border zones, international waters, and airspaces. Exploring the history of defection from 1945 to the present, the book considers how the competition for Soviet migrants shaped the governance of global borders and reinforced an international refugee regime whose legacy and limitations remain to this day.