2010, 2018
Erica F. Brindley
Professor
Pennsylvania State University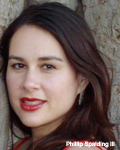 Re-evaluating Religion, Philosophy, and the Arts of Early China Through Excavated Texts: Excavated Texts from Chu
Who Were the Yue (Viet) and Where Did They Go? A Critical Approach to Ethnicity and Culture Change Along China's Ancient Southern Frontier, ~200 BCE – 200 CE
Standard histories suggest that the indigenous "Yue/Viet" peoples who inhabited China's ancient southern frontier were successfully absorbed into the Chinese regimes to the north. This project critically re-examines the history and historiography of ethnic and culture change during 400 years of the first extensive colonial period, the Han, revealing the extent to which traditional accounts have failed to impart an adequate picture of identity and cross-cultural interactions in the region. By using both textual and archaeological data to trace Yue identity formation, voice, and agency, I present a new understanding of borderland history that upends theories of acculturation and Chinese dominance and provides insight into early, non-Western forms of colonialism.
Contact Zones and Colonialism in China's South, 221 BCE to 1368 CE
The international conference, "Contact Zones and Colonialism in China's South," will encourage interdisciplinary discussions from the fields of history, linguistics, and archaeology concerning this region. We will focus discussion around questions of colonialism in early South China and mainland Southeast Asia: to what extent were cross-cultural and cross-ethnic contacts characterized by colonial types of power relations? To what extent was migration into the region a form of settler colonialism? And was there nonetheless a colonial dynamic among disparate peoples and in local communities of the South when cross-cultural interactions were commercial or agricultural, and not directly supported by an imperial government?