2002, 2013
Elvira López Vilches
Associate Professor
North Carolina State University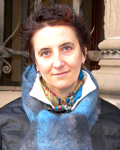 The economy of the marvelous: transatlantic values and fictions of the Spanish empire, 1492-1665.
Doing Business: Commerce and Mercantile Culture in the Early Modern Hispanic World
Doing business examines the vibrant commercial culture that thrived with the 1500s commercial expansion, struggled in the 1600s, and rebounded in the late 1600s. Far-reaching trade brought new attitudes towards wealth, the common good, and learning that expanded well into the eighteenth century. This book demonstrates how practical modes of thinking created a shift in values from honor to business, trade, and money. In the epistemological moment the book describes, we find new ways of thinking about the relationship between theory, practice, and ethics that are typical of modernity: new methods to build and produce wealth, and new attitudes towards the importance of commerce and the state, as well as professional self-advancement, across the Hispanic world.