2015, 2019
Elizabeth Ann Cecil
Assistant Professor
Florida State University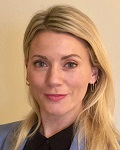 Mapping a Contested Landscape: Religion, Politics, and Place in the Making of Pāśupata Identity, Sixth-Ninth Century CE
This nuanced regional study investigates a formative period in the history of the Pāśupatas, the earliest religious community devoted to the worship of the Hindu god Siva. Employing an interdisciplinary approach that integrates the study of new manuscript sources, epigraphic records in Sanskrit, and material evidence from three critical groups of early medieval temples, the dissertation illuminates the ways in which the Pāśupatas took part in the political upheaval and religious efflorescence that defined northwest India between the sixth and the ninth centuries CE. This effort to materialize the ties between the self-fashioning of the Pāśupatas and the dynamic landscape in which they were embedded succeeds in recovering the many, often marginalized, voices that animated this complex community. Using these voices, this study crafts an alternative history of early Hindu religiosity that challenges traditional scholarly binaries (popular/elite; lay/ascetic; orthodox/heterodox) to explore the polysemy of religious identity in pre-modern India.
Architectures of Intimidation: Political Ecology and Landscape Manipulation in Early Southeast Asia
From the riverine coast of central Vietnam, to the highland jungles of southern Laos, and the wetland
mangroves of northwest Java, Southeast Asia's earliest Hindu polities were defined by their unruly geography. The kingdoms of Champa, Zhenla, and Taruma were archipelagos of power—distinct nodes of governance separated by intractable regions. This project develops the concept of "landscape manipulation" to explore the technologies of power used to cultivate these non-state spaces. Extending beyond utilitarian modes of territorialization, landscape manipulation emphasizes the strategic use of art and architecture to fundamentally, and often violently, transform features of local sacred geographies into political landscapes. Examining the architectonics of three monumental temple complexes from Vietnam, Laos, and Java between the fifth and the tenth centuries CE, this study uses structural remains, hydrological systems, monumental inscriptions, and iconographic programs to show how centuries of directed labor and accretional building practices produced architectures of intimidation designed to civilize wild places.