2011, 2015
Elif M. Babül
Assistant Professor
Mount Holyoke College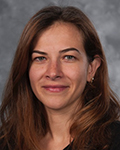 The State in Training: European Union Accession and the Making of Human Rights in Turkey
This project is a study of the human rights education for state officials and government workers in Turkey conducted as part of the European Union accession. The state agents' education on human rights (an essential criteria for membership) has been continuing since the approval of Turkey's candidacy in 2004. Eager to prove its commitment, the Turkish government has been cooperating with nongovernmental organizations to give human rights training to its employees (security forces, judiciary, prison personnel), a group closely associated with rights violations in the country. Exploring this unique site, the dissertation focuses on the social complexity of the daily enactments of international relations, legal processes, and global ethics, situated at a complex historical and political conjuncture.
The State in Training: Human Rights Translations and Encounters with Europe in Turkey
"The State in Training" is a project that traces the establishment of human rights as a governmental standard in Turkey, in tandem with the country's pending accession to the European Union (EU). Focusing on human rights training programs for Turkish state officials that are conducted to fulfill EU membership requirements, it uncovers how transnational standardization schemes and programs for good governance affect local bureaucracies. The book maps out how the translation of human rights to markers of good governance, such as professionalization and expertise, shapes both the enactment of the state and the politics of human rights in Turkey. Based on long-term fieldwork between 2007 and 2014, the project articulates both the perils and the promises of these programs for the subjects and objects of governance in the country.