2013, 2019
Deborah A. Boehm
Professor
University of Nevada, Reno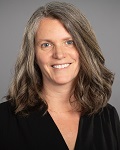 Return(ed): Transnational Mexicans in an Age of Deportation
This ethnographic project studies the notion of return through research about north-south migration and the deportation of Mexican nationals from the United States. Guiding questions consider how to theorize return, the ways that nation-states orchestrate removals, and what it means to individuals and families when transnational subjects go back to a place after a long absence or "return" to a location where they have never been. The research offers new theoretical perspectives on the production of illegality, return migration, and family across borders. Through the study of movement that disrupts expected migration flows, the project revisits and reframes approaches to transnationalism.
A Study of Unseen Spaces: US Immigration Detention in the Twenty-first Century
This collaborative project focuses on the complex and expanding US immigration detention system, especially spaces that are typically unseen by much of the public. Partnering with Freedom for Immigrants, a national organization that supports people in detention, and using anthropological methods in multiple field sites in the United States, the research contributes to understandings of immigration control and detention regimes, global movement and barriers to it, and inequalities within systems of justice. By privileging the lived experiences of people in detention and those challenging it, the project considers the tensions that arise when governments are in the dual role of receiving and welcoming but also criminalizing and incarcerating newcomers to the nation.