2011, 2015
Colleen P. Woods
Assistant Professor
University of Maryland, College Park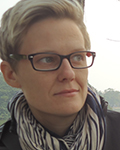 Bombs, Bibles, and Bureaucrats: The United States, the Philippines, and the Making of Global Anti-Communism, 1945-1960
This dissertation examines how the Philippines became the primary postwar site for the development and dissemination of a transnational anti-communist politics. It examines how Philippine elites and their US allies managed local struggles over land reform, armed insurgency, democratic governance, labor rights, and religion between 1945 and 1960. During the late 1940s and 1950s, US policymakers and Filipino elites developed what they conceived of as exportable models for postcolonial development. Characterized by Filipino leaders and US policymakers as early sites of tension in a global Cold War, this dissertation considers how these local political struggles were transformed into laboratories for the development of a globally oriented anti-communist movement.
Bombs, Bureaucrats, and Rosary Beads: The United States, the Philippines, and the Making of Global Anti-Communism
"Bombs, Bureaucrats, and Rosary Beads" tells how "the global," a geographic scale that in our contemporary world is assumed as the universal container for human life and history, was given new meaning through anti-communist politics. In interrogating "the global" as a politicized spatial category, the project shows how six American and Philippine networks transformed local struggles over the meaning and shape of Philippine independence into sites of international conflict. Beginning in the late 1920s, American and Filipino intelligence agents, military officials, paramilitaries, businessmen, state bureaucrats, university professors, and religious missionaries transformed the Philippines into a laboratory for the development of a globally oriented, anti-communist politics. Intent on ensuring that the demands of anti-colonial movements did not entirely overturn the colonial order, members of these networks wove together discrete and disparate political contests to produce a new geography of war without territorial boundaries.