2013, 2018
Angela Xiao Wu
Assistant Professor
New York University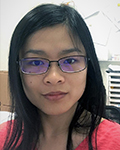 Uses of the Chinese Internet: Everyday Media Practices and Political Subject-Formation among China's Early Web Surfers
Based on in-depth interviews and documentary research, this project explores the microprocesses whereby people become political actors through their Internet use in China. It studies the history of media practices among a group of early Internet users who belonged to the avid audience of the short-lived Bullog.cn, then the edgiest, liberal-oriented blog portal. It investigates what kind personal trajectory accompanied the rise of alternative political understandings, and how these use patterns transformed people's daily lives. It provides insights into how communication technologies, through reconfiguring the information regime and sites of socialization, may be implicated in the establishment of a local democratic culture in authoritarian regimes.
Sorting out the Internet with Data Analytics
Based on documentary research, participatory observation, and in-depth interviews, this project will investigate the construction, implementation, and dissemination of third-party supplied metrics on online expressions in China. Drawing from communication literature on visibilities, science and technology studies, and emerging critical data studies, I will analyze how these metrics instigate and organize new regimes of visibility that reconfigure societal perceptions of web use and web users, and how this reconfiguration shapes people's online encounters and experiences.