2011, 2016
Ana Hedberg Olenina
Visiting Scholar
Arizona State University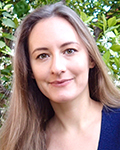 Gesture, Affect, Expression: Psychophysiology and Theories of Performance in Literature and Cinema of the 1910s-1920s
In the late nineteenth century, experimental psychology introduced methods for studying inner experiences by measuring motor reactions. This work examines the repercussions of these methods for the arts, revealing the factors that motivated writers, actors, and filmmakers in Russia and the USA in the 1910s-1920s to reformulate corporeality in accordance with recent trends in science. These factors ranged from a search for a more immediate transcription of unconscious creative impulses in handwriting, articulatory movements, and gestures to utilitarian concerns with optimizing labor efficiency and raising the effectiveness of spectacles and propaganda. This dissertation examines practices of recording, representing, interpreting, and training movement responsible for modern configurations of gesture and affect.
Psychomotor Aesthetics: Perspectives on Expressive Movement and Affect in Russian and American Modernity, 1910s-1920s
In the nineteenth century, neurophysiology introduced techniques for detecting somatic signs of psychological experiences. This project shows how new scientific discourses penetrated a broader cultural sphere, generating wide interest in the question of how the body reflects affective and cognitive processes. Scientific modes of recording, representing, and interpreting body movement as "expressive" found use in multiple cultural domains. Based on archival materials, this study charts avenues by which psychophysiology reached the arts and evaluates institutional practices and political trends that promoted interdisciplinary engagements. By mapping the emergence of what this project calls "psychomotor aesthetics," this study reveals how psychophysiology transformed film acting techniques, prompted the Russian and American film industries' inquiries into spectators' physical reactions, and spurred literary scholars to investigate poets' articulations.