2010, 2012
Adeniyi Oluwagbemiga Osunbade
Lecturer
Ladoke Akintola University of Technology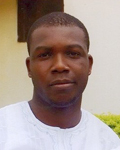 Explicatures and Implicatures of Conversations in Adichie's "Purple Hibiscus" and "Half of a Yellow Sun"
Adichie's works have enjoyed scholarly attention both from literary and linguistic perspectives, with greater attention from the former. Within linguistics, her works have been studied from a broad stylistic perspective. This study, however, investigates conversations in Chimamanda Ngozi Adichie's "Purple Hibiscus" and "Half of a Yellow Sun," using insights from relevance theory and Gricean pragmatics. No other context-driven study of the texts has been attempted in the literature. The study explores explicatures and implicatures in characters' conversations in the two novels, drawing examples from the transactions in each, totaling 460 (164 in "Hibiscus," and 296 in "Sun"). The selection of these two novels was informed by the dearth of attention they have received in linguistic scholarship, and out of consideration for their reflection of the Nigerian historical, sociocultural, economic, and political experience. The conversations in the novels are the unit of analysis because they are close to the everyday language behavior of the people, and are a significant part of the author's message.
Pragmatic Strategies in Conflict-mediation Discourses of Ifa Diviners in Southwestern Nigeria
Humanistic studies on conflict have shuttled between natural conflicts and preternatural conflicts, with more concentration on the former. These studies have addressed the structural properties of conflict, the communicative strategies of conducting conflict, and western and indigenous means of conflict resolution from the anthropological, sociological, and linguistic perspectives. However, little research has been done on preternatural conflict in humanistic scholarship in Nigeria, especially from the linguistic perspective. This study examine the mediations of Orunmila in preternatural conflict management by exploring the contextual adaptability of Ifa divination discourses (i.e. ese Ifa) to conflict-motivated consultative sessions with the aim of determining the pragmatic strategies engaged in them in the diviners' conflict-mediation efforts, using insights from Mey's (2001) pragmatic acts and the pragmatic maxims of cooperative and politeness advanced by Grice (1975) and Leech (1983), thereby filling the existing gap in conflict discourse in linguistic research.