Board, Board Executive Committee
Marwan M. Kraidy
Secretary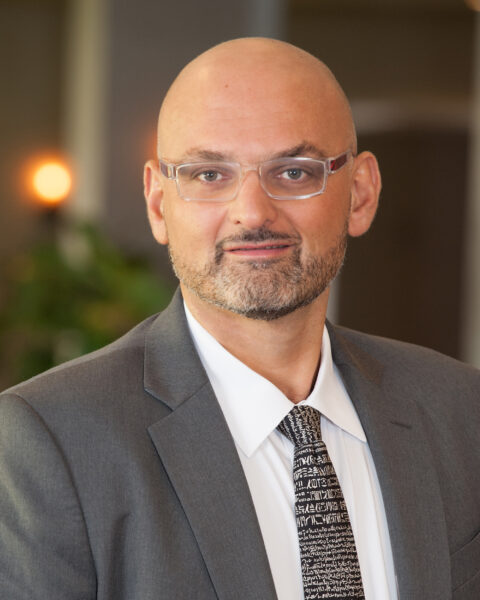 Marwan M. Kraidy became the dean and CEO of Northwestern University in Qatar in July 2020. Prior to assuming this position, he was the Anthony Shadid Chair in Global Media, Politics and Culture, and founding director of the Center for Advanced Research in Global Communication (CARGC) at the Annenberg School for Communication, University of Pennsylvania, where he is also affiliated with the Middle East Center. An expert in global communication and a specialist in Arab media and politics, he also researches the relationship between culture and geopolitics, global media industries, theories of identity and modernity, and the political symbolism of the human body in the public sphere.
Kraidy's work is distinctive for its deep reliance on primary materials, theoretical grounding in a multilingual literature and a comparative approach across historical periods, geographical sites, cultural forms, and media platforms. Ongoing research focuses on war machines in the digital age (particularly Islamic State), speed, spectacle and security in global communication, and the rise and fall of Turkey in Arab public culture. He teaches courses on globalization, culture and revolution, the body in digital culture, contentious publics, and the geopolitics of popular culture.
Kraidy has published 10 books, penned 120 essays and chapters, won 50 awards for teaching and scholarship, delivered keynote addresses and named lectures worldwide, and advised universities, civil society organizations, foundations, and governments. Notable books include Hybridity, or the Cultural Logic of Globalization (2005), and Reality Television and Arab Politics: Contention in Public Life (2010), supported by a fellowship from the Woodrow Wilson International Center for Scholars and a grant from the United States Institute of Peace, and winner of three major prizes: the Diamond Anniversary Best Book Award and the Roderick P. Hart Outstanding Book Award in Political Communication, National Communication Association; and Best Book Award in Global Communication and Social Change, International Communication Association.
Kraidy's account of the Arab Spring, The Naked Blogger of Cairo: Creative Insurgency in the Arab World (2016), considers the uprisings through the human body as a physical, symbolic, and aesthetic locus of power and rebellion, and features an engrossing cast of characters—self-immolators, puppets, superheroes, poets, street artists, digital videographers, satirists, and of course, the naked blogger—who confronted scorned dictators. He crafted the book in Wassenaar, as a fellow of the Netherlands Institute for Advanced Study in the Social Sciences and Humanities (NIAS) and of the American Council of Learned Societies (2014 ACLS/NEH International and Areas Studies Fellow), and revised it in Philadelphia as a fellow of the National Endowment for the Humanities (NEH). He published two more books in 2016: Global Media Studies (with Toby Miller) and American Studies Encounters the Middle East (with Alex Lubin).
In 2011, Kraidy was awarded a John Simon Guggenheim Memorial Foundation Fellowship for his work in media and cultural studies. In 2016, Kraidy was named an Andrew Carnegie Fellow for his work on war machines in the age of global communication.
Additionally, Kraidy has been the Edward W. Said Chair of American Studies at the American University of Beirut, the Albert Bonnier Jr. Professor of Media Studies at Stockholm University, the visiting Chaire Dupront at the Sorbonne in Paris, and visiting professor at universities in China, Finland, Germany, the Netherlands, and the US. Previously he held appointments in international relations at American University in Washington, DC, and in critical-cultural studies at the University of North Dakota. A graduate of Notre Dame University, Lebanon, Kraidy's MA and PhD are from The Ohio University.