Staff
Andrzej W. Tymowski
Senior Adviser for International Programs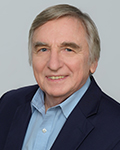 Andrzej W. Tymowski now serves as Senior Consultant to ACLS International Programs. He retired from the position of Director of International Programs in August 2021. Since 1995 he led fellowship competitions and manuscript-development workshops for scholars working on, and working in, Asia, Africa, and Eastern Europe. Among these activities: with support from the Luce Foundation, the initiative on East and Southeast Asian Archaeology and Early History, and the Program in China Studies; with support from the Carnegie Corporation of New York, the African Humanities Program and the Humanities Program in Belarus, Russia, and Ukraine; with support from The Robert H. N. Ho Family Foundation, the Program in Buddhist Studies.
Under Tymowski's direction, these fellowship competitions assisted individual scholars, while at the same time nurturing the growth of vibrant scholarly communities. In many cases, fellowship programs stimulated the rise of new associations that today sustain these communities as would learned societies: the African Humanities Association, MAG (the Slavic transliterated acronym for International Association for the Humanities), and the quarterly journal, East European Politics & Societies and Cultures.
In addition, Tymowski directed special projects on behalf of ACLS, such as the East European Constitutionalism Teacher-training Project, the Collaborative Research Network on "Official and Vernacular Identifications in the making of the Modern World," the Social Science Translation Project, and the video series African Humanities Voices.
Before coming to ACLS, as well as during his tenure in International Programs, Tymowski has taught political sociology at Emory University, college seminars at Yale University, seminars in sociology and writing workshops at the University of Warsaw, and writing workshops in Belarus, Russia, and Ukraine, and in Africa. He earned a PhD in Political Science at Yale University in 1995.