Press release
ACLS Announces Leading Edge Fellowship Program Office Hours
Register now for a session on March 3.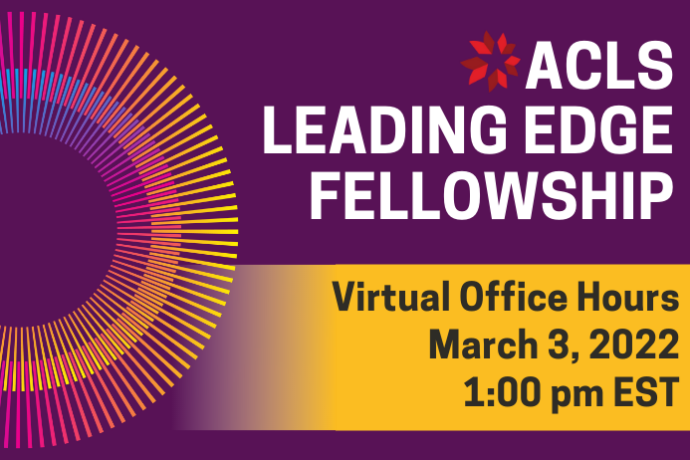 The American Council of Learned Societies (ACLS) is pleased to invite prospective applicants for the Leading Edge Fellowship program to attend Office Hours on Thursday, March 3, 1:00 – 2:00 pm EST. This information session will feature a short presentation by ACLS staff, and offer applicants the opportunity to ask questions and to receive real time feedback on eligibility, the online application form, and the parameters of the program.
In 2022, the Leading Edge Fellowship program, supported by The Andrew W. Mellon Foundation, will offer 20 two-year fellowships partnering recent humanities and interpretive social sciences PhDs with organizations advancing social justice and equity in communities across the United States. The fellowship positions are designed to draw on the humanistic skills, capacities, and frameworks developed in the course of earning a PhD in these fields, as well as provide a range of networking and career-building opportunities.
In this competition, ACLS will place fellows with 20 participating nonprofit organizations, including Deep Center (Savannah, GA), Asian Americans Advancing Justice-Atlanta (Atlanta, GA), and Operation Shoestring (Jackson, MS). The full roster of partnering organizations and projects is available here.
Applications for Leading Edge Fellowships are due Monday, March 28, 2022, at 9 PM EDT.
Questions? Contact us at [email protected].