What Counts: MacArthur Fellows Reflect on Academic Reward Structures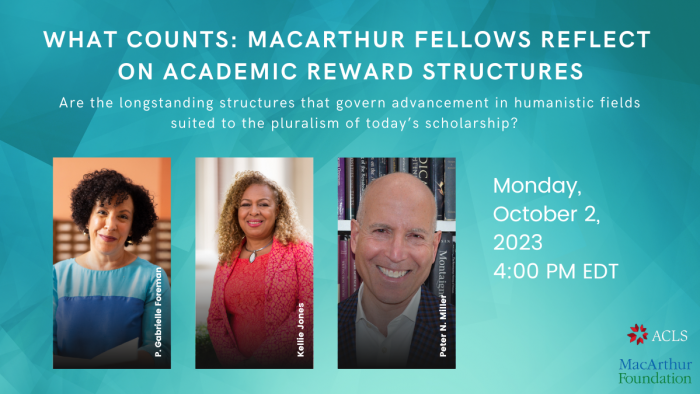 Monday, October 2, 2023 | 4:00 PM EDT
Join ACLS Vice President and COO James Shulman for a conversation with three MacArthur Fellows, P. Gabrielle Foreman, Kellie Jones and Peter Miller, discussing how their distinctive approaches to scholarship did or did not fit the "rules of the game" for career advancement in humanistic fields. This event is presented as part of an X-Grant from the John D. and Catherine T. MacArthur Foundation's MacArthur Fellows Program to support a new public panel series examining promotion and tenure structures for humanities and interpretive social sciences faculty in higher education today.
Moderator
James Shulman, ACLS Vice President and Chief Operating Officer
James Shulman serves as vice president and chief operating officer of ACLS. Previously, he was a Senior Fellow at The Mellon Foundation. From its founding in 2001 to 2016 he was president of Artstor. Working with his colleagues, he developed and implemented plans for an organization that now serves over 2,000 colleges, universities, schools, and museums around the world. His latest book, The Synthetic University, will be published by Princeton UP in fall 2023. At the Mellon Foundation in the 1990s, he collaborated with William G. Bowen and Derek Bok on The Shape of the River: Long-term Consequences of Considering Race in College and University Admissions. He also wrote (with William G. Bowen), The Game of Life: College Sports and Educational Values. He received his BA and PhD from Yale in Renaissance Studies. His first book was The Pale Cast of Thought: Hesitation and Decision in the Renaissance Epic.
Panelists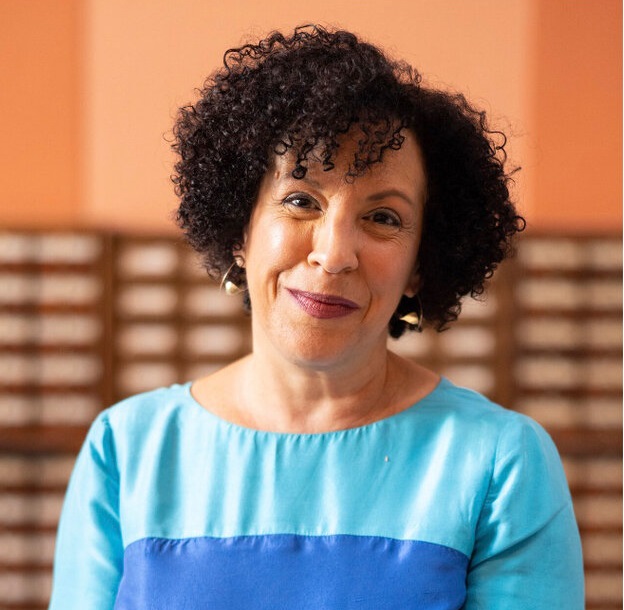 P. Gabrielle Foreman, Pennsylvania State University, 2022 MacArthur Foundation Fellow
P. Gabrielle Foreman, PhD, is a poet's daughter who hails from the South Side of Chicago and Venice, California. She is the founding faculty director of the award-winning Colored Conventions Project and a founding co-director of the Center for Black Digital Research/#DigBlk at Penn State University. Gabrielle is known for her long-standing commitment to working in collectives and to institution and community building. Like the Colored Conventions Project, #DigBlk is made up of graduate student leaders, librarians, satellite faculty, and arts and community partners who bring the scattered history of early Black organizing to digital life in a single, open source, collection and through digital exhibits. For a decade, Gabrielle has also been part of a trio that engages choreographers, poets, student researchers, and performance companies to bring early Black history to the stage. Foreman is known for essays that challenge disciplinary and institutional orthodoxies. She is author of five books and editions, most recently, The Colored Conventions Movement: Black Organizing in the Nineteenth Century, and Praise Songs for Dave the Potter: Art and Poetry for David Drake. Gabrielle is Professor of English, African American Studies, and History and holds the Paterno Family Chair of Liberal Arts at Penn State University. She is also a 2022 MacArthur Fellow.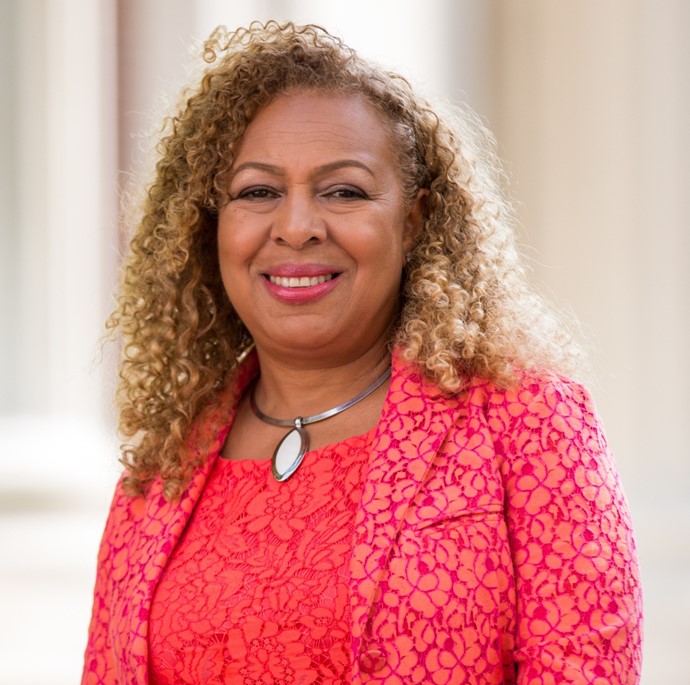 Kellie Jones, Columbia University, 2016 MacArthur Foundation Fellow, 1994 Luce/ACLS Dissertation Fellow in American Art
Kellie Jones, PhD, is professor in art history and archaeology at the Institute for Research in African American Studies (IRAAS) at Columbia University. Her research interests include African American and African Diaspora artists, Latinx and Latin American Artists, and issues in contemporary art and museum theory. Dr. Jones has received numerous awards for her work from the Hutchins Center for African and African American Research, Harvard University; Creative Capital | Warhol Foundation Arts Writers Grant and a term as Scholar-in-Residence at the Terra Foundation for American Art in Europe in Giverny, France. In 2016 she was named a MacArthur Foundation Fellow. Dr. Jones is the author of two books published by Duke University Press, EyeMinded: Living and Writing Contemporary Art (2011), and South of Pico: African American Artists in Los Angeles in the 1960s and 1970s (2017), which was named a Best Art Book of 2017 in The New York Times, a Best Book of 2017 in Artforum and received the Walter & Lillian Lowenfels Criticism Award from the American Book Award in 2018. Dr. Jones has also worked as a curator for over three decades and has numerous major national and international exhibitions to her credit.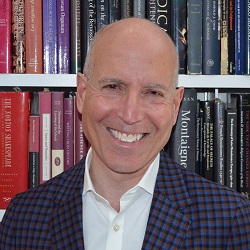 Peter Miller, American Academy in Rome, 1998 MacArthur Foundation Fellow
Peter N. Miller, PhD, is a respected historian and educator who is a leading voice on the continued importance of the humanities, is President of the American Academy in Rome. Dr. Miller is an expert on the history of scholarship, cultural history, antiquarianism, and conservation. These topics guided his long record of leadership as dean of the Bard Graduate Center, where he developed exhibitions, curricula, publications, and programs that advanced interdisciplinary scholarship and created bridges between academia and the public. At Bard, he greatly expanded humanities programming and oversaw the creation of new full-time academic positions in the study of Islamic art and material culture, medieval European artistic and material culture, museum anthropology, art and material culture of Africa and the African diaspora, and the material culture of New York City, among others. Dr. Miller received his BA and MA from Harvard University and received a doctorate in history from the University of Cambridge. Prior to becoming dean, he was professor of cultural history at Bard and held posts at the University of Maryland at College Park and the University of Chicago. Dr. Miller is the author of numerous peer-reviewed articles and seven books, and the editor of twelve collaborative volumes. He was a John Simon Guggenheim Foundation fellow in 2003 and has also received grants from the Andrew W. Mellon Foundation, the National Endowment for the Humanities, and the MacArthur Foundation.
Related News & Events