Joy Connolly in Conversation with NEH Chair Shelly Lowe
Presented as part of the ACLS Annual Meeting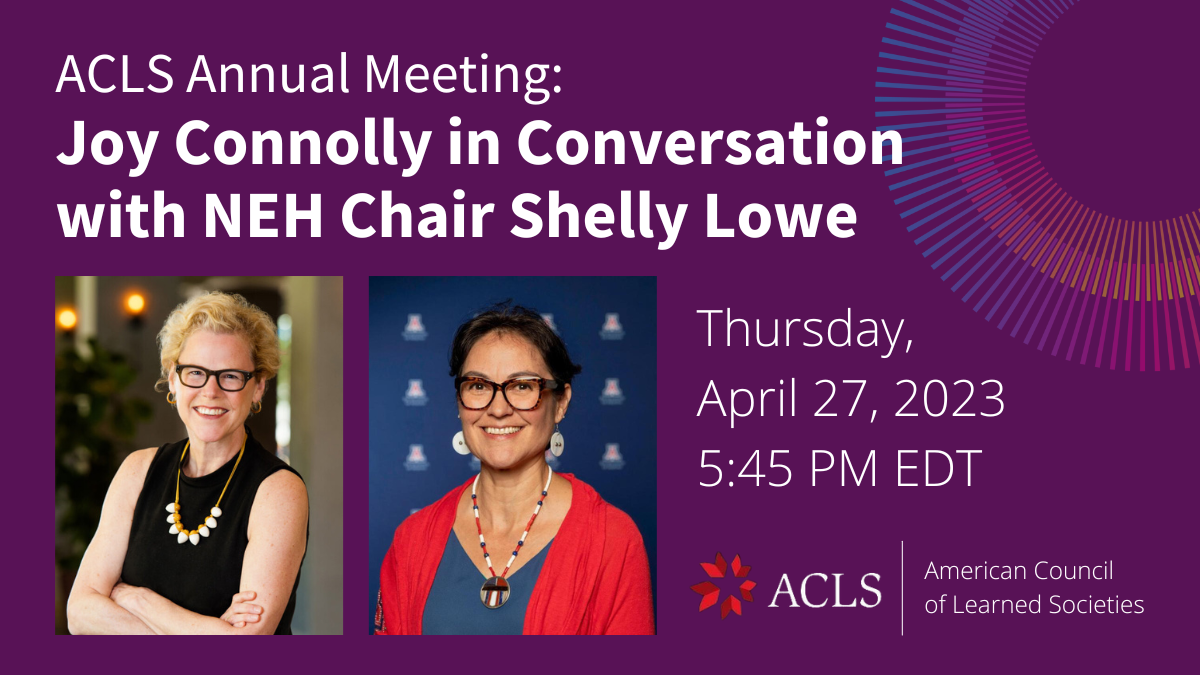 Thursday, April 27, 2023 | 5:45 PM EDT
Join ACLS President Joy Connolly in conversation with Shelly Lowe, Chair of the National Endowment for the Humanities (NEH) as part of the ACLS Annual Meeting. The event will be livestreamed, sign up below for additional information.
Joy Connolly began her service as President of the American Council of Learned Societies on July 1, 2019. Previously, she served as provost and interim president of The Graduate Center at the City University of New York, where she was also Distinguished Professor of Classics. She has held faculty appointments at New York University, where she served as Dean for the Humanities from 2012-16, Stanford University, and the University of Washington. Committed to broadening scholars' impact on the world, as provost at the Graduate Center Joy secured generous support from the Mellon Foundation to foster public-facing scholarship through innovative experiments in doctoral training. She has published two books with Princeton University Press and over seventy articles, reviews, and short essays. Connolly earned a BA from Princeton University in 1991 and a PhD in classical studies from the University of Pennsylvania in 1997. She was elected a fellow of the American Academy of Arts and Sciences in 2021.
Shelly C. Lowe is Chair of the National Endowment for the Humanities. Lowe is a citizen of the Navajo Nation and grew up on the Navajo Reservation in Ganado, Arizona. From 2015 to 2021 she served as a member of the National Council on the Humanities, the 26-member advisory body to NEH, an appointment she received from President Obama. Lowe's career in higher education has included roles as Executive Director of the Harvard University Native American Program, Assistant Dean in the Yale College Dean's Office, and Director of the Native American Cultural Center at Yale University. Prior to these positions, she spent six years as the Graduate Education Program Facilitator for the American Indian Studies Programs at the University of Arizona. Lowe has served in a variety of leadership roles nationally, most recently as a member of the University of Arizona Alumni Association Governing Board and of the Challenge Leadership Group for the MIT Solve Indigenous Communities Fellowship. She has served on the board of the National Indian Education Association and as a trustee on the board for the National Museum of the American Indian. Lowe holds a BA in sociology, a MA in American Indian studies, and has completed doctoral coursework in Higher Education from the University of Arizona.
Related Events